The movie "Pali Road" wrapped up a month of filming on Oahu Friday. Cast and crew shot their final scenes at The Royal Hawaiian in Waikiki.
"Pali Road" is a mystery-thriller set in Hawaii that tells the story of a female doctor who wakes up after a car accident and realizes that her life is completely different than she once knew.
The movie stars Jackson Rathbone of "The Twilight Saga," Sung Kang of the "Fast and Furious" franchise and Henry Ian Cusick of "Lost." The Peruvian-born actor now lives in Hawaii.
"I get to go home at the end of the day," Cusick told KHON2. "Hawaii is just such a fantastic location. The scenery you have, all this beautiful sea and jungles and you can do so much here."
Film officials say this production is unique because it's the first movie to be co-financed by Chinese and Hawaii film groups.
The head of Crimson Forest Entertainment brings 10 years of experience in China's entertainment industry while Island Film Group, based in Honolulu, has produced "Princess Kaiulani," "Soul Surfer" and "Beyond the Break."
"From my perspective, I don't really go about it differently because it's a Chinese and American film together," said actress Lauren Sweetser. "I kind of have the same process, but it's been really cool to learn, you know, we've got a bunch of different cultures all coming together to make this, so it's been really cool to learn about that."
"Pali Road" is set to be released in 2016.
http://khon2.com/2015/02/13/mystery-thriller-pali-road-wraps-filming-on-oahu/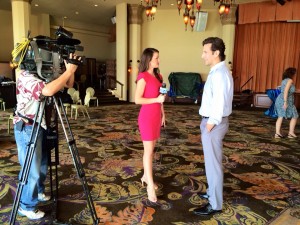 Talking to media on final day of shooting