Henry Ian Cusick – Director
*Exciting update!*
Ian broke the news last summer at SDCC that he would  be directing an episode of  The 100 in the new season.
Last week on Twitter, there was news of it happening!
Tweeted by 100 writer Julie Bensen,  @TheJulieBenson  who apparently along with Shawna Bensen are the writers of Ian's episode, tweeted this to 100 fans:
"Psst, guess who's directing @shawnabenson's & my episode of The 100 this season? @hicusick, Yay!!!"
AND included the following photo: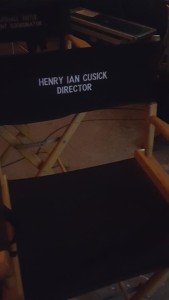 To which Ian replied with this tweet:
@TheJulieBenson @shawnabenson thank you both for a FANTASTIC script! X
HIC fans are eagerly awaiting season 4 of The 100 and now having an episode under Ian's direction included in that new season, make fans even happier!
* Season 4 premiere of The 100 airs February 1, 2017*
We hope you will be watching!